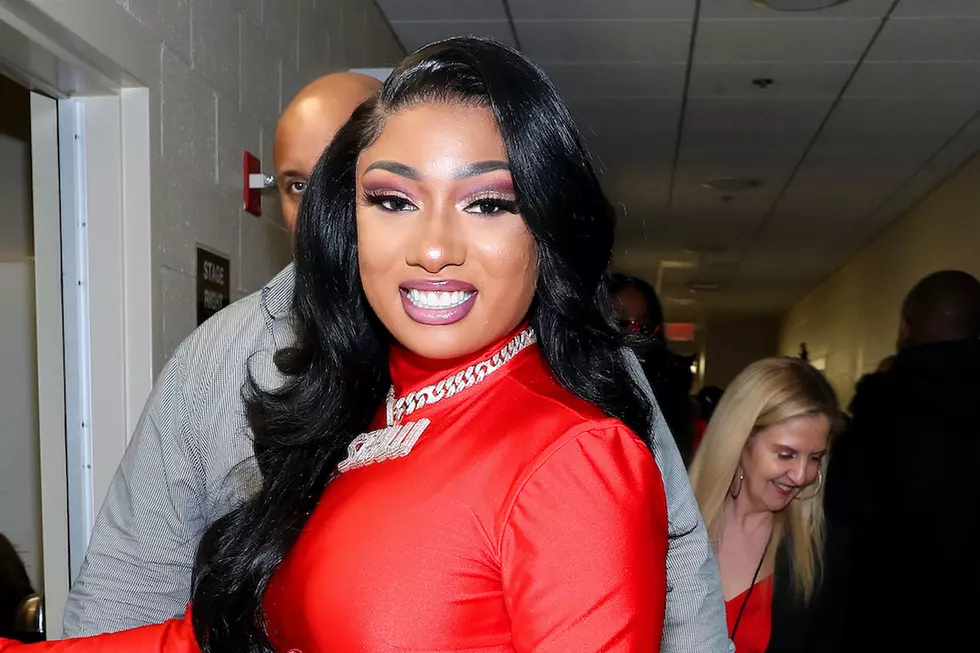 Megan Thee Stallion Sues And Gets Retraining Order Against Label
Bennett Raglin, Getty Images
Over the weekend, Megan Thee Stallion let her fans know she had an ongoing beef with her record label, 1501 Certified Entertainment. The raptress has reportedly filed a lawsuit against the company and its CEO, former MLB star Carl Crawford. In addition to suing her label for $1 million in damages, she also filed for a temporary restraining order. Megan according to Billboard is asking the court to void her 360 recording contract with 1501, arguing various "unconscionable" reasons why she should be released. First, she alleges that she's only been paid $15,000 from the label after earning more than a billion streams and selling over 300,000 individual track downloads, which equates to an estimated $7 million.
Roc Nation
. Megan claims things have gone from bad to worse ever since she asked her label if she could renegotiate a few aspects of her contract. The rap femcee told fans reps at Roc hipped her to some game, explaining:
TMZ
reports the rapper whose real name is,
Megan Pete, let her Twitter followers she was forced to take some "extraordinary steps" by filing a restraining order. The raptress explained if she didn't put that in place her debut album
Suga would've been shelved and blocked from being released Friday, March 5, 2020.  
Court docs details reveal Megan accused her label and Crawford of allegedly telling their music distributor "not to release or distribute any of her new music." Being that Suga was slated for release this Friday that would "have a devastating impact, and cause irreparable injury." This week Billboard reported a federal judge in Texas took her complaint into account and granted the temporary order.
That's not all, the judge ordered 1501 Entertainment "to do nothing to prevent the release, distribution, and sale of Pete's new records." The ruling ordered 1501 and all it's affiliates "to refrain from threatening or posting any threatening any retaliatory social media posts or threats against Pete." In addition, to "refrain from threatening anyone associated with Pete or trying to prevent or limit others from working with Pete" and "to not intentionally falsify, alter, spoil, hide, transfer, or otherwise destroy any documents, evidence or recordings related to Pete in any way."
Crawford isn't taking Megan's accusations laying down. The music mogul clapped back sitting down with Billboard to give his side of the story. He denied her claims that he tried to prevent her new album from coming out. The former baseball star told Billboard, "It's a whole lie," he continued. "Nothing is true that she said. Me being greedy and taking money from her, that's crazy. I never tried to take nothing from her. The only thing we ever did was give, give, give."
Crawford went on to say the "Hot Girl Summer" MC owes him money for merchandise and live touring as stated in the terms of their deal. He said, "Let's talk about your contract. It's a great contract for a first-timer," The label exec added. "What contract gives parts of their masters and 40% royalties and all that kind of stuff? Ask Jay-Z to pull one of his artists' first contracts, and let's compare it to what Megan got... I guarantee they won't ever show you that."
There's clearly a lot to work out between the two. Hopefully, they can work it out. In the meantime a hearing is scheduled for March 13 to decide whether she will end or extend the temporary restraining order against her label.
More From My Magic LC 92.1 FM