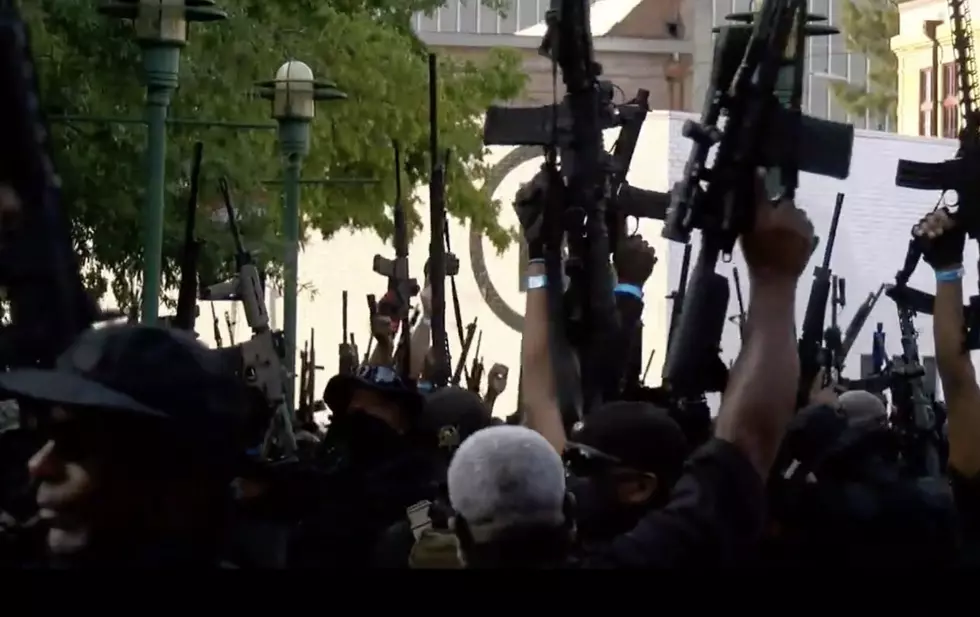 Photos And Videos Recap The NFAC March In Downtown Lafayette
Facebook Live, KATC
Over the weekend the black paramilitary group known as the NFAC marched in downtown Lafayette.
The NFAC (Not F****** Around Coalition) was lead by John Jay Fitzgerald Johnson (aka Grandmaster Jay) who assembled a group of protesters near the Lafayette Public Library off Congress street before beginning a march to Parc Sans Souci a little after 4 p.m.
As the march began, the NFAC quickly halted when the sound of "shots fired" caused unrest in the Parc area two blocks away. According to the Lafayette Parish Sheriff's Office, the sound was reportedly an accidental discharge of a weapon at the rally location in Parc Sans Souci where locals were gathered awaiting the arrival of the NFAC.
According to KATC via an LPSO spokesperson, Terrance Jones of Lafayette "is facing one charge of Reckless Discharge of a Firearm at a Parade or Demonstration and one charge of Felon in Possession of a Firearm" and no injuries were reported.
There were rumors that flashbangs or a similar type of explosive device were deployed to cause chaos by outside disrupters, but a shell casing was located by law enforcement in the area where Jones was detained.
We will update this story if we hear any other confirmed developments that stray from anything that has already been reported by LPSO.
After the area was secured, the NFAC march proceeded to make their way to Parc Sans Souci along with other local activist groups where several speakers addressed the crowd.
Speakers included NFAC leader Grandmaster Jay Johnson, local NAACP leader Marja Broussard, and LCG Chief of Minority Affairs Carlos Harvin.
Johnson, once a one-time presidential candidate, addressed the crowd with an overall message that "power respects power."
We came to stand in solidarity with the NAACP and all the other activist groups that are out here. Because it seems like any other time y'all try to protest, they want to do stuff to you. They want to tear gas you and hit you over the head. Isn't it strange that when we come out that doesn't happen? Nobody gets tear-gassed. Nobody gets knocked over the head. I wonder why. You know why? Because you always look at power. We're power. Power respects power. And you all have the right to exercise the same power.
Grandmaster Jay's message also came with words that he said may not be popular with the black community but still encouraged locals to "be smart" about themselves.
He stressed that a community must respect itself before anyone else will.
No one will respect a race of people who don't respect themselves.
While the protest was a peaceful one, the NFAC leader did not mince words when he told onlookers to stop "bringing signs to a gunfight," encouraging locals to arm themselves responsibly.
He preached to members of the black community to "stop killing their own" and to "keep felonies off of their record" so they would be able to arm themselves as productive citizens as opposed to becoming subjects in society.
When you arm yourself you go from being a subject to a citizen. You respect citizens.
One piece of Johnson's messaging that did raise eyebrows was the moment when he advised citizens to send anyone who put their hands on them to "the morgue or the hospital."
Some took issue with his blunt message while others applauded it as their constitutional right.
Another moment that resulted in unrest was when Mayor-President Josh Guillory's Chief Of Minority Affairs Carlos Harvin took the stage to fire up the crowd.
Harvin applauded the NFAC for visiting Lafayette, but a lot of members in the audience booed him while he read his prepared remarks—surely a reaction given the tumultuous relationship between the local black community and Guillory's administration since the Lafayette Mayor-President took office.
At one point, in a move that some may not have anticipated, Johnson actually scolded NFAC members who engaged with locals that disrupted Harvin, threatening that it would be their last march if they didn't disengage.
Johnson revealed that one of the reasons the NFAC decided to march in Lafayette was to call for changes within the Lafayette Police Department in the wake of the fatal officer-involved shooting death of Trayford Pellerin but according to a report from KATC, it was ultimately a post from Congressman Clay Higgins that pushed them to make the trip.
The group says they made plans to come to Lafayette after Congressman Clay Higgins made threats against groups such as theirs, a threat Facebook took down almost immediately. Higgins reportedly told the group earlier this week that he would meet with them today, but changed his mind when they released a phone recording of their conversation. Higgins was not in attendance at the event, but one of his opponents in the upcoming race did speak out.
In the end, Johnson pushed for justice. He pushed for people to vote.
He also encouraged Lafayette to form their own local chapter of the NFAC.
I want y'all to be like them, be like us. Join up with us. Stand your ground. And when you see something messed up happening, don't just be a witness to it.
Law enforcement from multiple local agencies was on hand to assist the Lafayette Parish Sheriff's Office in keeping things peaceful at the protest while also protecting the constitutional rights of those who were protesting. At the conclusion of the NFAC event, everything was peaceful according to LPSO.
Overwhelming response of law enforcement where law enforcement was talking to all the groups that were in attendance. We definitely took our time, we were able to mix and talk to many of the people that were involved, people exercising their rights. We support that, we support peaceful protests.
While Congressman Clay Higgins announced earlier in the week that he would not be attending the rally after a phone call that he intended to be private was posted publicly by Johnson, he did post to social media announcing that he was heading to a BBQ.
You can see a full 3-hour video covering the event below.
UPDATE: NFAC leader Grandmaster Jay addresses poor reporting that linked accidental discharge to NFAC march.
More From My Magic LC 92.1 FM