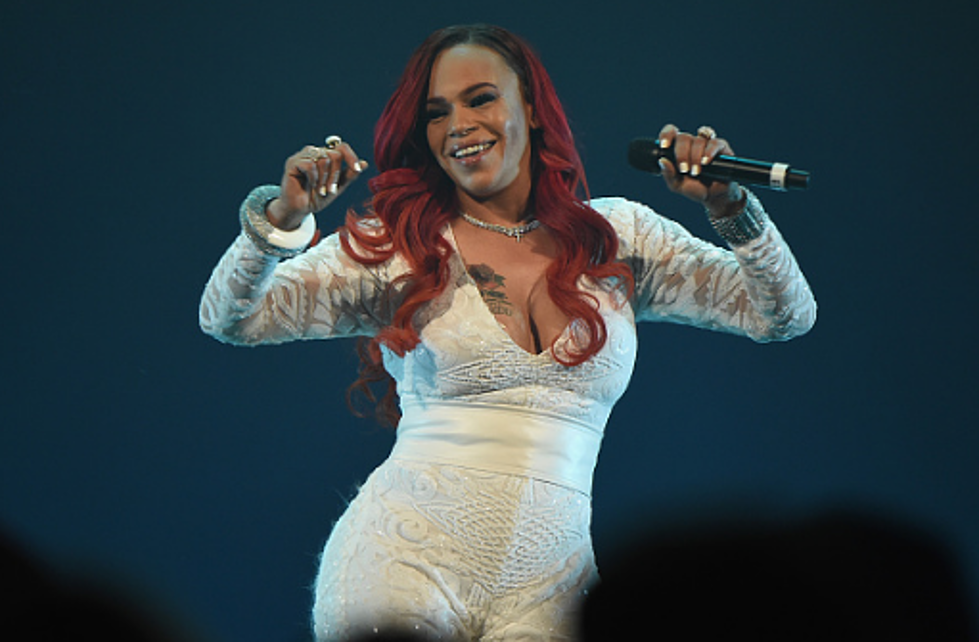 Faith Evans Married Stevie J. In Secret Wedding – Tha Wire
Faith Evans- Kevin Mazur via Getty Images
Today in Tha Wire...I don't know where the hell I've been during this love affair. I gotta admit I was surprised to learn that R&B vet, Faith Evans, recently married music producer/reality star Stevie J. I had no idea they were even a couple, because their union is kinda sticky. Stevie knew the late Christopher Wallace...very well. He was an original member of the Bad Boy Records "Hitmen" team. He rose to fame producing mega hits for the iconic label, like 112's "Only You" featuring The Notorious B.I.G. For that matter he did several tracks on Life After Death for the Brooklyn legend, such as "Mo Money, Mo Problems." J. even produced the Biggie tribute song, "I'll Be Missing You." So the fact that he's now married to the late rap icons widow, is a little taboo.
HotNewHipHop reported Faith and Stevie had been together off and on, for a while now. After a long break-up last year, The two recently got back together, after a long break-up last year. You know what they say, "absence makes the heart grow fonder." This last go around, they obviously decided to seal the deal and get married.
Word has it, they tied the knot in Sin City, Tuesday July 17, 2018. TMZ reports they obtained a copy of the couples marriage license, and the news is legit. There was an issue with the document omitting Faith's 1994 marriage to Biggie, but that was a simple typo. The license also listed the singers second marriage/divorce to her former manager, Todd Russaw in 2012. Hopefully three's a charm, and this will be Faith's final walk down the isle. Stevie, whose real name is Steven Aaron Jordan, had no marriages on file.
TMZ
 had originally reported 
the 
Jordan's - "filed for the license in Clark County on Tuesday. The clock's now running, they have one year to tie the knot." Then later updated their story when the
First Lady of Bad Boy and her Boo decided to elope the same day. Turns out they said their,
I Do's, in front of a small group of family and friends in their Vegas hotel room. With that said...CONGRATULATIONS to them both! Faith later confirmed their marriage, with the following tweet below.
Meanwhile the newlyweds have been up to a little more than just getting married. They've also been making beautiful music together. Matter of fact fans can expect a new single from Faith in the very near future! Her producer hubby was happy to tease footage from their steamy video shoot on his
 IG page
. Peep the visuals for Faith's new single,
A Minute, ft. Stevie J.
Hopefully their marriage can weather its first BIG storm. Their love is already being put to the test, as woman's pregnancy claims threatens to ruin everything. BET reports a 20-year old woman, who goes by @thebossputa_ on Instagram, is furious about the marriage. She took to social media blasting them both in a variety of posts. According to BET the woman uploaded pics of the producer supposedly sleeping in her bed, videos of him on the phone, and more.
She claims to be pregnant for the Love & Hip Hop star, saying she hopes Faith can help him pay his support now, and that they are expecting a baby in October. In addition, the woman had some words for Faith as well. She threw shade suggesting the singers to old to still be getting played. Then told Faith she should be ashamed of herself for marrying Stevie, and that Biggie is probably turning in his grave.
This is major drama for the new couple, and there's no telling how this is going to turn out. Of course I will do my best to keep you posted on all of the above. Catch the latest entertainment news with Tha Wire, every weekday on The People's Station 107 Jamz.
More From My Magic LC 92.1 FM