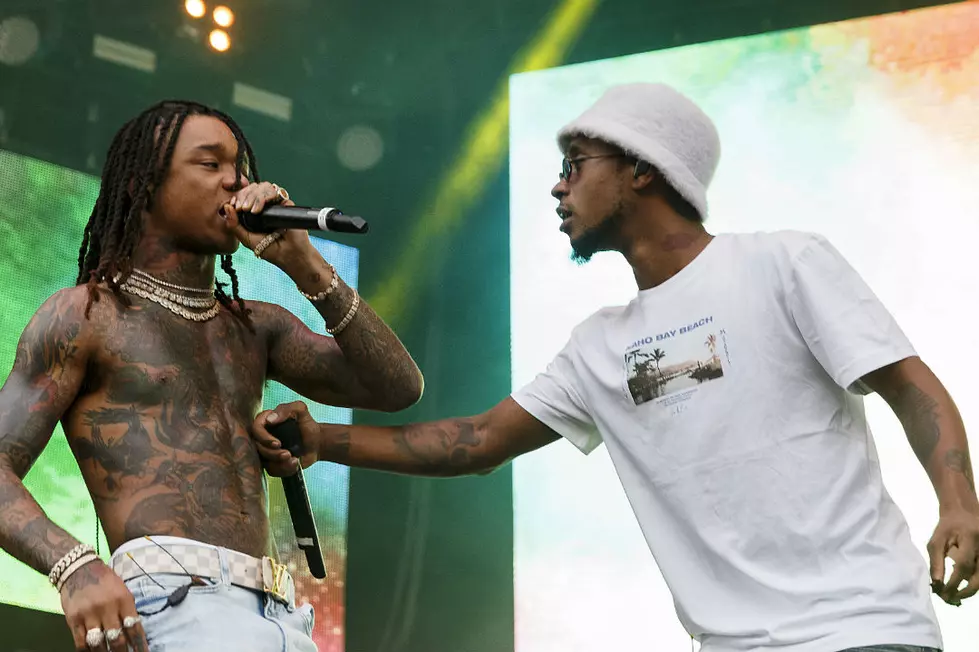 Mother Of Rae Sremmurd Reveals Son Suffers From Schizoaffective Disorder
Andrew Chin, Getty Images
As more details are revealed about the murder of Rae Sremmurd's stepdad, Floyd Sullivan, mental illness appears to behind the tragic event. Michael Jamil Ali Sullivan, is in custody for killing his 62-year old father at their home in Tupelo, Mississippi Monday (Jan. 6.) He was arrested Tuesday, shortly after being released from a hospital where he underwent a psychiatric evaluation. According to AllHipHop, his mother said he is suffering from a very serious mental condition.
Slim Jxmmi and Swae Lee brother was born from their moms marriage to Floyd. Bernadette Walker and Mr. Sullivan divorced in 2008 and Michael was reportedly living with his mom until November last year. She confirmed recently that her son suffers from Schizoaffective Disorder. It's a serious mental illness that without a proper diagnosis and medication lead to symptoms like manic behavior, hallucinations, delusions, disorganized thinking, and depression.
Mrs. Walker shared her frustration with TMZ about America's mental health system being broken. She said when Michael turned 18, she could no longer require he take his medication. Despite his chronic mental condition, if he didn't want to take his meds there is nothing she can do. Ms. Walker said Michael his medication was fully necessary to keep him calm.
The mother of Rae Sremmurd told TMZ that Michael slowly got off his medication while living with her in Atlanta and his outbursts of anger become more frequent. By the time he moved to Mississippi to live with his dad, he stopped taking meds all together. Hopefully the authorities can find a way to help Michael, rather than just lock him up. We definitely will keep them all in our prayers.
"Thank you 🙏🏽 to everyone reaching out with positive thoughts and prayers... Obviously this is a very difficult time for our family. We appreciate you.. we may not contact everyone individually but we see your messages and we love and thank you all! We'll keep you updated.. and thank you for your respect for our privacy at this time.❤️," wrote Walker on Instagram.
More From My Magic LC 92.1 FM